CAREER-DEFINING QUESTION FOR ONLINE COACHES:
What's the difference between an online fitness coach who is highly in-demand, able to charge a premium for their services, that creates incredible results for their clients and who still has time for a life away from the laptop...
...and one who barely breaks even, struggles to get clients, spends hour after hour consuming content and feels like they should be doing more to grow their business?
If you guessed...

---
...how many followers they have and how many 'likes' they get...
You'd be wrong.
...the number of 3-letter certifications and years of experience they have...
You'd be wrong.
...how sexy and professional their logo/branding/website looks with all those posed professional 'lifestyle' photos of them staring thoughtfully off into the distance...
You'd be wrong.
...how many times they've posted 'now accepting online clients' and prayed to the Gods of online coaching that it somehow works *this* time...
You'd still be wrong.
The truth is this...
Many online coaches struggle to grow for one simple reason...
While they are great at coaching clients, they lack the confidence and skills when it comes to sales, marketing and business.
And even more than that...
When they do try and improve those skills...
They get misled by fitness business 'gurus' into high-pressure sales tactics, BS marketing and cookie-cutter approaches that *sometimes* work in the short-term...
...but in the long term...
❌ you churn and burn through your audience...
❌ your business becomes a revolving door as retention plummets...
❌ and you're no longer a coach, you're now a sleazy salesperson...
And, you're left with a business you DREAD working in, clients you don't like and who aren't bought into the services you provide.
You need to know what works for YOU, based on YOUR values as a coach, YOUR demographic and what you want from YOUR business...
Otherwise you get caught in the loop...
Wasting money on a website, on sexy branding, funnels and paid ads...
Wasting time posting content that gets nothing but crickets, doom-scrolling on Instagram seeing successful online coaches and thinking to yourself;
"What are they doing, that I'm not?"
All the while, feeling that familiar knot in your stomach when yet another month has passed by without bringing on a client.
Avoiding looking at your bank balance knowing that you're not building the financial security you want
Wondering if you'll ever be able to get it off the ground or if you'll have to go back to long hours of PT on the gym floor or worse - a "real" job.
Feeling like you're letting down those around you and not contributing in the way you wish you could.
The reality is, nothing will, until you understand the key foundational principles of a successful online fitness business.
Sure you could go back to trial and error, crossing your fingers and hoping. Or you could...
Stop copying what you see others doing online, competing against every other person on Instagram with 'Online Coach' in their profile, fighting over the same low-value clients who want a generic training template and meal plan.
Why compete with other coaches who have a bigger following? A better six-pack or bigger booty? Learning to play to your strengths is the secret to long-term sustainable growth...
If you're committed to building a profitable, resilient online fitness business that brings you the fulfillment and financial security you want, you need the right service, systems and strategy in place, FAST.
Good news: you don't need to wait a decade to become a highly in-demand online coach working with high-paying clients you love to work with. You just need access to the right people (hi, that's me!) alongside the right principles, strategies and frameworks...
Know this:
There's a real, proven way to get unstuck.
A way off the frustrating 'trial and error' hamster wheel...
Into sustainable and scalable long-term growth...
Because as a professional online coach you should have a professional business that brings a professional income.
As a coach you change lives.
But if you want to grow your online fitness business, it's virtually impossible to help without sinking ££££'s into business coaching...
And let's face it...it's russian roulette as to whether it will actually work.
Or your guru disappear into the sunset with your hard-earned cash...continuing to post photos of fast cars, fancy meals and watches on Instagram.
🤮
Which is why I've chosen to demystify the process around building a profitable, sustainable and resilient online fitness business, once and for all.
To make public the time-tested and battle-proven unchanging principles behind successful online fitness businesses.
To take what I've learned through a decade of trial and error and give you the key to sustainable and scalable growth.
INTRODUCING...
THE FOUNDATIONS WORKSHOP
Until now, these principles were only available through my high-end mentorship programs. In just hours you'll learn the proven methodology I've used for the past decade to build multiple oversubscribed online coaching business (and mentored dozens of online coaches to do the same...)
You'll learn how to get more clients and build a profitable, systemised and resilient online fitness business - while other online coaches keep trying to get clients by posting gym-selfies or dancing around on TikTok...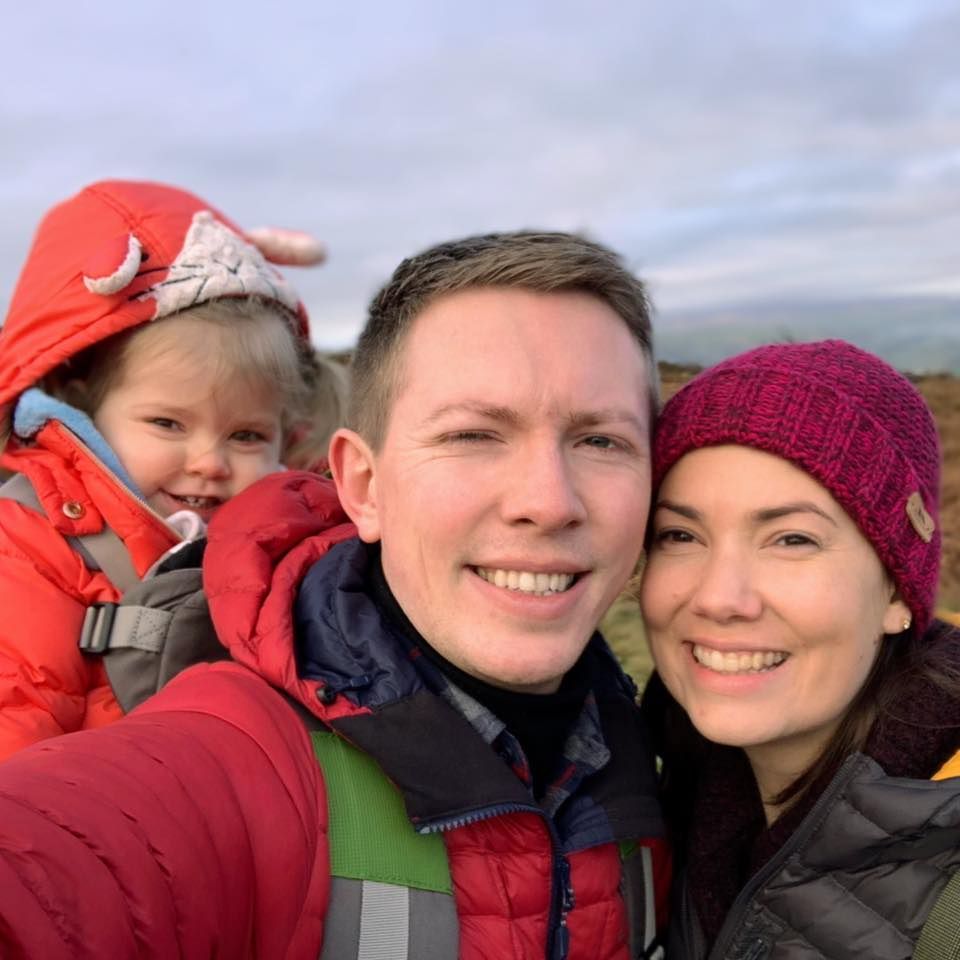 WHY LISTEN TO ME?
I'm Matt Connolly and I'm the creator of the Foundations Workshop.
This is the my distilled experience of spending the past decade coaching clients online, building multiple oversubscribed coaching businesses, working for OPEX Fitness, travelling the world and delivering seminars & workshops in 9+ countries...
During that time, I've learned a lot about what works and, more importantly, what doesn't, when it comes to growing online.
In theFoundations Workshop I'm going to show you what WORKS when it comes to upgrading your coaching & growing your business and peel back the curtain on my proven 3S Method™...
I'll show you EXACTLY how you can use it to grow a sustainable, profitable and deeply fulfilling online coaching business...
...so you can eliminate the frustration and overwhelm of relying on ineffective 'trial and error'.
WORKING WITH INTEGRATED PERFORMANCE WAS WORTH 2000x MY INVESTMENT
"Before working with Integrated Performance, I was bound to a CrossFit box for my main source of income, I needed to work there to pay my bills. I had no real plan on how to set priorities on my time to develop my business without neglecting my family.
I was working hard from 6am-9pm doing "everything" but not seeing the outcomes I wanted.
With the support of Matt, I went self-employed inside a pandemic. My business is fully online coaching now. I have WAY more time, I live my day like I want it, I have 2.5 days off per week, my clients are happier than ever, I have time to read 1 book per week, still train 6x per week and can live the live I've always wanted!
If you're not fully-booked already, reach out to Matt! This is the roadmap every coach needs to live a fulfilled life."
Momme Jürgensen, Germany // Online Coach
I'VE REACHED FINANCIAL GOALS I NEVER THOUGHT WERE REALISTIC AND AM WORKING SIGNIFICANTLY LESS THAN BEFORE
"Before working with Matt, my primary challenge was how to balance managing my business and client load with a lack of time spent with my family and on my personal health. I was running a successful coaching business, but doing it in an unsustainable way - I was burned out.
Since working with Matt, I've hit financial goals I never thought were realistic and am working significantly less than before.
I have better systems in place to manage the client load I work with, which has allowed me to spend more time with my family and on my personal and professional growth.
Matt's greatest asset is the time that he takes to help me implement the ideas that he gives me. A lot of teachers and mentors are great at telling people what to do, but often leave out how to do it. With someone as busy as I am, I love how Matt has always taken the extra step to help me implement the systems he has taught me
Matt has taught be how to grow a sustainable business in a way that doesn't sacrifice my greatest priorities.
I would highly recommend his services to any coach who is searching for a way to grow their business in a sustainable way."
Jake Foster, TN // Online Coach
THE FOUNDATIONS WORKSHOP IS OUR

PROVEN

STEP-BY-STEP SYSTEM TO GET MORE CLIENTS ONLINE
Discover our proven method to attract more clients, earn more money and have more free time...
SEE HOW YOU'LL SKYROCKET YOUR ONLINE FITNESS BUSINESS IN 6HRS OR LESS:
THE MODULE-BY-MODULE BREAKDOWN
[ MODULE 1 ]
HOW TO IDENTIFY & ATTRACT YOUR IDEAL CLIENTS
Why getting clear on your target market is so important and how to use my P3 Framework to become the go-to person in your industry.

How to leverage proven principles, strategies and tools in order to grow a sustainable & profitable online coaching business

The impact of market economics on business growth and how to manipulate supply & demand to build an oversubscribed business

Exactly where and how you need to spend your time inside your business in order to create sustained, exponential growth

How to differentiate yourself and stand out inside a crowded market so you can consistently attract a stream of 'ready-to-buy' ideal customers

Exploring your personal origin story and how it is your most powerful marketing asset to attract the clients you want to work with

How and why to structure your business to better serve your clients without having to work longer and longer hours
In total, in module one we're going to make sure you're clear on exactly who you want to talk to with your messaging. So you can feel clear & confident about exactly what you need to say, to who and how in order to deeply resonate with and connect to, your target market so you can become the authority in their world
[ MODULE 2 ]
BUILDING YOUR SALES & MARKETING MACHINE
The major principle that underpins successful marketing and how to leverage it to create success that lasts YEARS

The difference between investing and day-trading and how to build an audience of potential customers who want to buy

How to build trust with your audience through strategic content creation, delivery and dissemination

Why and how to segment your audience so you can say the right thing, to the right person, at the right time

How to understand the psychology of your target market and use it to construct your customer journey

How most coaches screw up their marketing by talking to the SAME people and exactly how to avoid making this critical mistake

Our process to map out your sales system to create an effortless process that brings in your ideal client without you feeling like a used-car salesperson
In short, you're going to know exactly why and how to structure your sales and marketing machine so you can have a proven process to consistently attract and convert your ideal clients and create a steady stream of new customers
[ MODULE 3 ]
UPGRADING YOUR SERVICE DELIVERY
How to apply proven principles to consistently add value and upgrade your service delivery over time

The importance of spending your time in the right areas and using the Pareto Principle to create more impact in your coaching and business

Why your customer onboarding system has the potential to determine the success or failure of a client and 3 strategies you can use to improve it

The 'green script' concept and what we can learn from Alfred Hitchcock to create a better client experience inside your business

Why we need to learn from other industries outside of fitness to upgrade service and take the lessons learned in other sectors

Why overdelivery is they key to creating a long-term sustainable online fitness business and a 4-part framework to ensure you're doing it consistently

Why you need a clear customer journey and how to map it out to generate better client outcomes and better client experience along the way
In short, I'm going to show you how to approach improving your service, like developing an app. So you're not stuck on v1.0 for the next 5 years while the industry around you evolves, and you can feel confident in the value and results that you generate for your clients.
[ MODULE 4 ]
THE SYSTEMS YOU NEED TO SCALE
Why and how to capture systems and where most coaches go wrong with trying to create them

The five growth levers you can pull in order to drive exponential growth and the specific systems you can use to do it

Where to start when it comes to developing systems and the order of priority inside your business of doing it

How to structure your time inside the business for maximum impact and continued growth, without burning out

The importance of task prioritisation inside your business and a simple framework to help you do it in under 5 minutes

Why 'systems' are a procrastination tool for many analytical coaches and how they can become a barrier to growth

The best client attraction systems based on the current phase of growth your business is in and why they work so well
In short, you'll learn how, when and why to start creating systems, what to prioritise first and how to get started so you can create a business that allows you more time to focus on serving your clients and doing the things you love, with the people you love.
[ MODULE 5 ]
PUTTING IT ALL TOGETHER
Three specific client attraction strategies you can use to generate leads today and generate an ROI as soon as possible

Why most coaches struggle to grow consistently and the specific tactics you can use to avoid it

The psychological triggers you can leverage to create greater impact with your audience to build rapport & attract clients

How to structure your social media platforms in order to attract and nurture your target market

How to create compelling content that converts strangers to customers, reliably & repeatedly

When and how to use social proof to build trust and grow your business organically thorugh referrals

Why you need a clear customer journey and how to map it out to generate better client outcomes and better client experience along the way
In short, you're going to have the exact next steps to follow in order to start attracting clients into your coaching services and generate a positive ROI from the workshop as quickly as possible
[LIMITED TIME BONUS #1]
OVERCOMING IMPOSTER SYNDROME



(£97 VALUE)
If you're sick of feeling like you need 'more' information...
If you want to be able to show your value to your audience and attract clients consistently...
If you want to build more confidence in your service and ability to generate results...
And if it's hard work putting yourself out there, charging what you're worth, creating content and 'showing up' in an authentic way...
This is for you.
First, I'll show you where those feelings come from and what we can do about them
Next, I'll give you the 3 steps for overcoming imposter syndrome, so it's easy for you to show up, charge what you're worth and become highly in-demand for your services.
Finally, we'll roll up our sleeves with the worksheets and I'll show you how it's done.
[LIMITED TIME BONUS #2]
THE CLIENT REFERRAL ENGINE
(£147 VALUE)
We all know that referrals are one of the best ways to grow your coaching business, but there's a problem...
Until now, most coaches referrals are inconsistent which can lead to months of feast and famine, like riding a miserable rollercoaster leaving you feeling excited one month and deflated the next.
The Client Referral Engine is my pre-built, referral generating system that you can simply plug and play into YOUR business today.
Using my simple 3-step framework you'll be able to predictably and consistently generate referrals with less than 10-minutes per month of work.
TOTAL TIME TO UPGRADE YOUR BUSINESS?

~6 HOURS
(If there's a faster way to upgrade your profitability, let us know.)
We could just give you cookie-cutter advice like "just charge high ticket" or "you need to run ads"...but you already know that doesn't work long term.
Instead, we'll be teaching you the time tested and proven underpinning principles of a successful and thriving online fitness business.
Sure, paid ads might be useful in future - but without these underpinning principles you'll be burning cash at the altar of Zucks.
But using timeless principles? You can get to profits faster.
That's a value proposition most business "gurus" can't claim because they have either NEVER run their own online fitness business...
...or they did it for a few months YEARS ago...
...we've been in the online coaching space for 10 years and still have a fully-booked online coaching business today.
START GETTING CLIENTS THIS WEEK...
By the end of five modules + the bonuses, you've absorbed some solid know-how. It's time to put it into action.
Skip straight to module 5 to get clients today. (Then, circle back to make your business even more successful.)
THE FOUNDATIONS WORKSHOP GIVES YOU THE TOOLS & CLARITY TO GET CLIENTS THIS WEEK

Students like these are growing their business with the the 3S Method
I'VE JUST HIT $10K PER MONTH. I HAVE MORE TIME WITH MY FIANCE, MORE TIME TO TRAIN BJJ AND MORE FREEDOM IN MY SCHEDULE
"Before working with Matt, I was feeling really burnt out. I had a decent amount of 1-1 clients but was spinning my wheels with how to grow so I could have a better schedule.
Before working with Matt I'd worked with The Strong Coach, Commit Action and a few other educational groups and none of them worked. They felt like quick fixes that didn't help me improve the foundation of my business.
I've gone from 3-5k per month and every month I've increase, recently hitting $10k per month.
Not only that but I've got the freedom to alter my schedule to fit my lifestyle.
If you're like I was, stuck at $3-5k per month Matt is more than worth the investment.
I know what it's like to live paycheck to pay check and spending money on a mentor seems scary. Let me take away that fear by saying when I first spoke to Matt he said I'd make back at least 3 times what I invested in the first month with him.
Exactly one month later I hit 3.9x what I invested. Stop wasting your time and apply now"
Mitch Harbaugh, FL // Online Coach
I NOW HAVE MY WEEKENDS BACK, 55+ INDIVIDUAL CLIENTS AND AM EARNING $15K/MONTH...
"Before working with Matt I was hustling every day, it wasn't sustainable. I was getting close to burnout as I had the passion to help my clients results, but not the systems to do it efficiently.
I'd tried taking coach education courses, but none of them gave me what I needed to be successful inside my business.
Since working with Matt, I have clarity, I have a plan and my business is sustainable. I've improved my service delivery and my clients are getting great results. I finally feel like I'm in control and am making profit and also time for my family.
I now have my weekends back, 55+ individual clients and am earning $15k per month.
Working with Matt will upgrade your coaching business...but you have to work for it!
Invest in him. He has the experience, systems and strategy to help you grow a sustainable, fulfilling and profitable online fitness business."
Patrick van der Vlies, NL // Online Coach
THE FOUNDATIONS WORKSHOP INCLUDES:
STEP-BY-STEP VIDEOS
Walking you quickly but precisely through our 3S Method. There's no filler here, just the most direct path to the results you want.
You'll get strategies and principles that are taught to stick alongside visual examples
A COMPLETE COURSE WORKBOOK

We help you take the information from the training videos and immediately implement it inside your online fitness business.
Because we all know that information, without implementation, is useless.
WHAT'S THE VALUE OF A SINGLE ONLINE COACHING CLIENT?
If you implement everything inside the Foundations Workshop, you could immediately upgrade your service delivery, increase your pricing and start getting more clients this week.
More importantly, what's the value of getting a single online coaching client every month, every week, or multiple times per week?
TRY THE FOUNDATIONS WORKSHOP. THEN, TAKE 14-DAYS TO DECIDE WHETHER YOU'LL KEEP IT.
I get it, times like these even the smallest of investments make you think twice. So I am taking away all the risk. Because if you jump in and buy this amazing bundle today, you are 100% covered by our 14-day money back guarantee.
So if at any time in the next 14-days, you think this workshop is not AT LEAST worth the teeny investment you are making today, all you need to do is email us and let us know and we'll refund you in full.
So you literally have nothing to lose (and oh so much to gain!)
JOIN THE ONLINE FITNESS BUSINESS FOUNDATIONS WORKSHOP
As a Foundations Workshop student, you get forever access to...
The tested and proven method for growing online

Step-by-step training video tutorials

The complete Foundations Workshop workbook

Bonus content worth over £240
TRY IT NO-RISK TODAY. DECIDE WITHIN 14 DAYS.
Check Out With Confidence
All payments are processed securely via Stripe.
14-Day Guarantee
We want you to love it. If not, let us know and we'll refund you.
WHAT OUR CLIENTS ARE SAYING...
GOT QUESTIONS? WE'VE GOT ANSWERS...
I'm just getting started in online coaching, is this right for me?
Will the Foundations Workshop help me get more online clients?
Ok, but how much time do I actually need to carve out?
Is the workshop content dripped out? Will I have to wait?
And what exactly is included?
JOIN THE ONLINE FITNESS BUSINESS FOUNDATIONS WORKSHOP
TRY IT NO-RISK TODAY. DECIDE WITHIN 14 DAYS.
Check Out With Confidence
All payments are processed securely via Stripe.
14-Day Guarantee
We want you to love it. If not, let us know and we'll refund you.
THIS WORKSHOP IS

PERFECT

FOR YOU IF...
You are just getting started in online coaching and want a proven method to get your first clients

You want to feel confident in your ability to run and grow your online fitness business

You want to have a clear and effective long-term business strategy that leads to consistent growth & success

You want to get more online clients and a predictable, repeatable process to do it month after month

You want to feel fulfilled and accomplished by helping others achieve their health & fitness goals
BY NOW, YOU KNOW THERE'S A BETTER WAY THAN TRIAL AND ERROR...
If you're an online coach, you know you need to improve your business skillset. (Because it's just as important as your coaching skills)
You know that chasing certifications, or consuming more books and podcasts won't grow your business.
You know you need a proven method. A roadmap to get you from where you are now, to where you want to be.
If you're ready to take our hand and walk from frustration and overwhelm to confidence and clarity, then I invite you to...
JOIN THE ONLINE FITNESS BUSINESS FOUNDATIONS WORKSHOP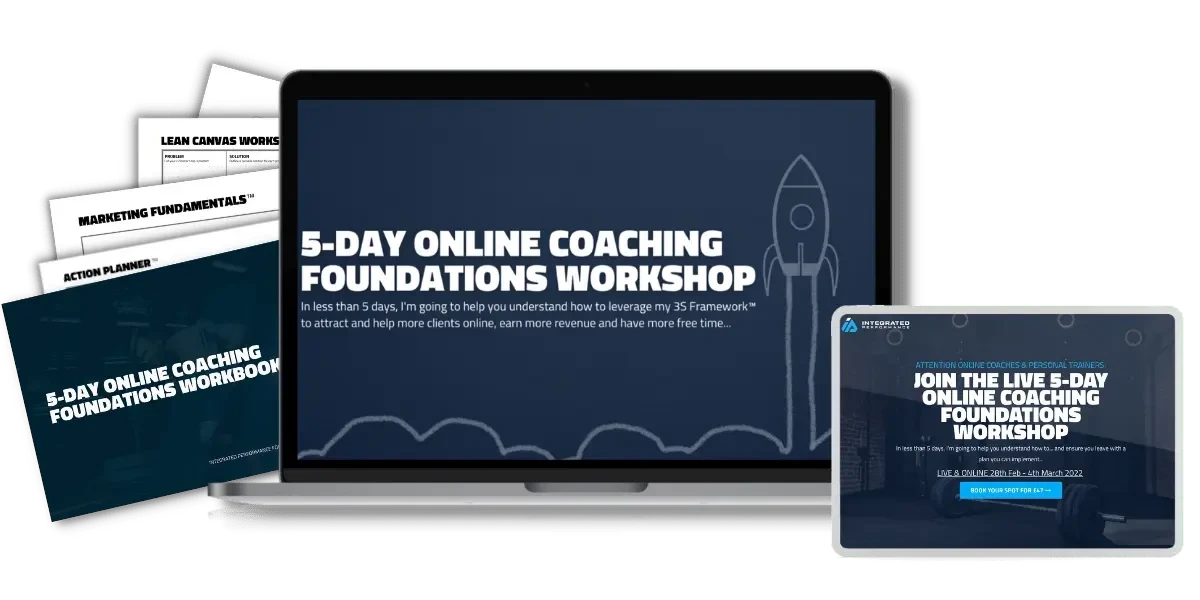 TRY IT NO-RISK TODAY. DECIDE WITHIN 14 DAYS.
Check Out With Confidence
All payments are processed securely via Stripe.
14-Day Guarantee
We want you to love it. If not, let us know and we'll refund you.